About Spain
Areas where E-Style Spain offers new build properties in Spain
E-Style Spain covers the four most important areas of the southeast of the Iberian Peninsula: Costa Blanca South, Costa Blanca North, Costa Calida and Costa del Sol. These four areas are where our real estate agents are responsible for offering new build properties in Spain . Four areas where enjoyment and pleasure are assured. The best destination for your new home in Spain, you decide.
Costa Blanca North:
The North Costa Blanca comprises the northern half of the province of Alicante and is composed of more than 100 km of coastline. The main cities that make up the Costa Blanca North are Benidorm, Altea, Benissa, Moraira, Calpe and Denia.
In this area you can discover numerous coves and mountains that await wonderful secrets. Its beaches are characterized by crystal clear water and fine sand. Its climate is warm most of the year. Its temperatures reach 14 degrees of annual average, thus becoming an area with a stable climate in both summer and winter.
Costa Blanca South:
The Costa Blanca South comprises the southern half of the province of Alicante and among its more than 100 km of Mediterranean coast are cities such as Elche, Santa Pola, Orihuela Costa, Torrevieja and Pilar de la Horadada.
When located further south, its temperatures are a little warmer than the Costa Blanca, both areas being an ideal destination to leave bad weather. It is not surprising to observe in several of these cities, chalets, apartments, townhouses or luxury villas near the sea. A long list of new build properties in Spain where many tourists choose to be part of it.
Costa Calida:
The Costa Calida is composed of 250 km of Murcia's Mediterranean coast (Region of Murcia). La Manga del Mar Menor, El Mojon, Los Alcazares or Pagan are some of the most important maritime cities of the Costa Calida. An area that is characterized by offering a climate with high temperatures in each season.
Costa del Sol:
The Costa del Sol is the name given to the maritime cities of southern Andalusia, more specifically, Malaga. In this place you can enjoy, not only a fabulous climate, but a great variety of charming towns, amazing beaches, beautiful golf courses and incredible leisure.
The coast of Malaga is a special and ideal place to enjoy a vacation or a period of retirement.
Our new build properties in Spain await you. Which area do you want to choose?
Our real estate agency in Alicante offers all the necessary ingredients to enjoy one of our fantastic new build properties in Spain. If you want to know more information about our areas or about our properties, do not hesitate to ask us for information.
Costa Blanca South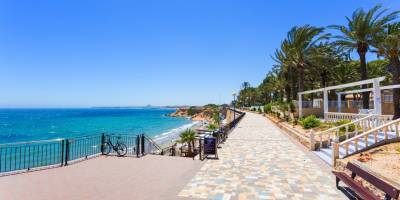 Costa Blanca South, a piece of heaven
The area of Costa Blanca South is known for its excellent beaches, magnificient golf courses and the diversity of local villages and towns, both coastal and inland.
Costa Blanca South is situated in the province of Alicante, between the city of Alicante and Pilar de la Horadada. In this area you will enjoy amazing sandy beaches and most of them each year receive a blue flag status. The most popular residential areas are: Torrevieja, Punta Prima, Playa Flamenca, La Zenia, Cabo Roig, Santa Pola, Guardamar del Segura.
With more than 320 days of sunshine and the average temparature of 19º, the Costa Blanca South is a paradise that allows to enjoy the best things in life. The winters here are very pleasent and you will find many people spending their time at the beach. It´s no wonder why this area has been chosen by so many tourists for many years as the best holiday destination and a dream place to retire.
On the links below you will find summary about each area, click on the link to see more information:
Things to do in Costa Blanca South.
Las Salinas
There are several salt lakes in Costa Blanca South which create healthier micro-climate especially beneficial for the people with arthritis and rheumatic problems. Few years ago Costa Blanca South was recognized by the ¨World´s Health Organization¨as one of the healthiest places to live in the world.
Sandy Beaches
The whole area has large sandy beaches. The water is clean and clear, sea shore is not deep so the children can enjoy playing in the sea. From the Carabassi beach, between the regions of Santa Pola and Elche, until Torre La Horadada the travellers will see a variety of beaches where you can have the best time enjoying the outdoor activities.
A variety of Golf Courses
You will be playing at the most prestigious golf courses in the area. The unique design of each golf course allows you to choose the course that best suits your game. Throughout the region there are more than 15 golf courses to choose from.
How to get there.
By plane.
You can get to almost all the areas from the international airport of Alicante-Elche. Also, just few kilometres more there is another international airport of San Javier Murcia. Both airports have daily destinations to the most countries of Europe.
By Car.
All the áreas are reachable by the national road of N332 or motorway of AP-7.
Cities
Area Map
---
Costa Blanca North
Costa Blanca North, where the blue colour of the sky meets the blue of the sea
At the northern Costa Blanca you will find beautiful mountains and landscapes, wonderful coast and cliffs and of course the authentic inland villages with an unique atmosphere – a perfect place to enjoy your life!
The Costa Blanca North is located in the province of Alicante. The landscape of this area varies greatly, you can find very mountainous and rocky places with the fields of olive, orange and almond trees or sandy beaches with impressive cliffs.
The local villages have many activities to offer all year around. Many different shops and boutiques offering original hand made gifts and local weekly markets.
Also you can choose between many different leisure activities such as water sports, hiking, visiting historical places, playing golf at the popular golf courses of the area or trying delicious food at local restaurants.
The most popular places among the tourists on the northern Costa Blanca where you can enjoy these great activities and local lifestyle are: Altea, Benidorm, Benitachell, Calpe, Denia, Javea and Moraira.
Altea
It is known as one of the most beautiful historical town on the Mediterranean coast. The magic of this town has been attracting the artists from all over the world as well as the nature lovers inspired by the unique beauty of its coast.
Benidorm
Benidorm is the touristic capital. Its excellent location lets you enjoy the pleasent weather throughout the year. In addition, Benidorm is proud to offer the highest quality accomodation, leisure and nightlife in Spain.
Benitachell
Benitachell is a wonderful place for those who want to escape from a busy lifestyle. The long sandy beaches and peaceful atmosphere makes it the best holiday location.
Calpe
The famous rock of Penon de Ifach is the emblem of Calpe. This huge rock rises 332 metres out of the Mediterranean sea and creates beautiful scenery. Also here you will enjoy the best restaurants offering fresh fish dishes.
Denia
In Denia you will find the diversity of the coast: on the south of Denia you will enjoy panoramic
rocky coastlines with the cristal clear waters and on the north wonderful sandy beaches.
Javea
Mediterranean sea paradise with impressive nature, beautiful old town, sandy beach and touristic viewpoints from which you will enjoy unforgettable views of the surrounding areas.
Moraira
Moraira town is considered to have one of the best marina in the Valencian community. Here you will enjoy prestigious yacht port, great selection of fish restaurants and 8km of blue flag beaches.
How to get there
By Plane.
If you are travelling to the north of Costa Blanca it is very comfortable to travel from the airport of Manises in Valencia, you will reach the north in approximately 45 minutes time. To the south of Costa Blanca the best to go from Elche-Alicante international airport. Both airports offer daily destinations to the main cities of Europe.
By car.
All the areas are reachable by the national road of N332 or motorway AP-7.
By Train.
You can easily travel between Alicante and Denia by a Train and at the same time enjoy panoramic routes.
Cities
Area Map
---
Costa Cálida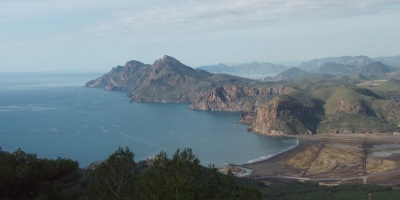 Costa Cálida, the Paradise in Murcia
Costa Calida is a gorgeous place where two seas are together on the one coast. More tan 3.000 hours of the sunshine a year, white sand and cristal clear water clean beaches make this place a real paradise for holiday makers. Also, if you like playing golf you will enjoy some of the best golf courses of Spain.
Costa Calida stretches about 250km on the Mediterranean coast. It starts at the town of El Mojon to the the north and finishes at Aquilas to the south.
One of the best attractions of Costa Calida is its climate. Here you will enjoy the sun for most of the time with the temparatures ranging from 11ºC to 15ºC in winter and 25ºC – 33ºC in summer time. It is a place with plenty of golden sand beaches, fishing ports, local villages and beautiful scenery. The most popular áreas of Costa Calida are: San Pedro del Pinatar, Los Alcázares, Los Belones, Cabo de Palos, La Manga del Mar Menor and Cartagena.
Things to do.
Cabo de Palos
The first thing that catches the attention in El Cabo de Palos is its famous lighthouse. It is also officially recognised by the foundation of Cousteau as the best place for diving on the Mediterranean coast.
Mar Menor
Mar Menor is the largest lagoon in Spain, it is highly protected and also attracts many tourists. La Manga has 73km of coastline surrounded by transparent water and 135 km2 of beaches. The coast side of Mar Menor belongs to San Javier, San Pedro del Pinatar, Los Alcazares and Catagena. In San Pedro del Pinatar you will find the famous ¨mud baths¨ in the area of salinas which are very beneficial to the skin and health.
Cartagena.
The city of Cartagena has more than 2,500 years of history. Here you will have an opportunity to visit numerous historical places, monuments and Cartagena´s port with its long naval history.
How to get there.
By Plane.
There are three aiports nearby Cartagena. The closest one is the airport of San Javier, than the airport of Murcia and airport of Alicante-Elche, all airports offer many direct flights to the most of the European towns. The distance to the airports by car is approximately 30-45min.
By Car.
All the areas of Costa Calida and Mar Menor are very well connected by national road and motorways.
Cities
Area Map
---
Costa del Sol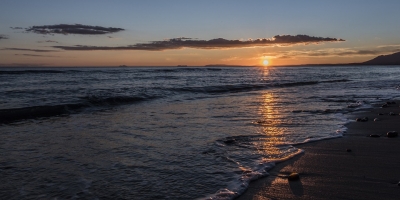 Costa del Sol, beach and golf Paradise in Andalucia
Costa del Sol covers over 150 kilometers of the coastline in the province of Malaga. With 320 days of sunshine a year this place is a real paradise for perfect holidays and permanent living.
Costa del Sol is one of the most popular tourist destinations in and one of the most important touristic areas in Spain. The most popular areas of Costa del Sol are: Marbella, Benalmádena and Estepona.
La Costa del Sol has a very pleasent climate with average year temparature of 19 º. If you like wáter sports than this place is perfect for you. The average sea temparature in winter is 15 degrees and summer time more than 20 degrees.
Things to do.
The diversity of local villages.
Starting with the cliffs of Maro, magnificient coast of Nerja, charming Torrox, Rincon de la Victoria, popular Torremolinos Benalmádena, Fuengirola, Mijas, Marbella, Estepona, Manilva and the tranquility of Csares, la Costa de Sol is a dream place for a holiday where your dreams come true.
The beauty of the beaches.
Due to its excellent location and climate Costa del Sol offer numerous beaches where you can enjoy all types of water sports such as diving, windsurfing and sailing. The beaches are perfectly equipped with all necessary services: public showers and toilets, beach bars and restaurants, chill out areas, volleyball nets, parking and much more.
The variety of golf courses.
Costa del Sol is known as well as Costa del Golf - the place that has the highest number of golf courses in the whole Europe in such a small place. There are 40 golf courses which offer the highest quality and are considered to be the best in the world.
Other activites.
Here you will enjoy not only golf courses or wáter sports but as well a big diversity of other activies available. In Costa del Sol you will find: water parks, busy nightlife offering many casinos, night clubs and bars for every music taste, popular flamenco bars and, cinemas etc.
How to get there.
By plane.
The international airport of Malaga is connected to almost all towns in Europe offering direct flights. It is located only 8km. away from Malaga, 7km. from Torremolinos and 45km away from Marbella.
In the airport you will find all the services that you might need: Banks, Exchange offices, rent a car, commercial area, bus service to Malaga city and taxi.
By train.
The Spanish railway network offer directions from or to Madrid, Barcelona and the main towns of Andalucia. Also there is a train service between Terremolinos and Benalmádena.
By car.
The west coast is connected to Malaga and nearby areas by the motorway and the east coast has a national road.
Also, there are daily buses offering the journey from Malaga to the most of the areas in Costa del Sol: Málaga y Fuengirola - Marbella - Estepona y Algeciras atc.
Cities
Area Map
---